---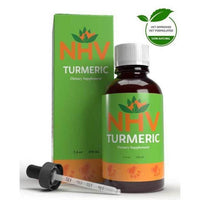 Reduces inflammation of joints
Pain-reducing properties
Improves liver function
Support heart and circulatory function
Use turmeric for dogs with cancer, arthritis, digestive disorders, and more as a supporting supplement.
All pet parents want their beloved pets to be healthy, and with the tremendous health benefits of turmeric. This herb is also used as a spice, and is considered to be a superfood.
Properties of Turmeric
Anti-inflammatory
Antioxidant
Antifungal
Antibacterial
Anticoagulant
Antiseptic
Astringent
Health Benefits of Turmeric 
The active compound in turmeric is curcumin, which may be beneficial for dogs suffering from the following health issues:
Autoimmune disease
Heart and circulatory problems
Liver disorders
High LDL (bad) cholesterol levels
Pet parents who found relief for their canine with NHV's Turmeric also found Milk Thistle and Old Timer supplements to be beneficial.
Specific Organ Benefits of Turmeric 
Heart - Turmeric helps increase heart and circulatory function.

Joints

 

- The outstanding anti-inflammatory properties help aid in many arthritic conditions affecting the joints.

Pancreas, Liver, and Spleen

 

- The other active component found in NHV's Turmeric for Dogs is black pepper, which is needed for the bioavailability of turmeric. Black pepper helps increase enzyme secretion from the pancreas further assisting in the digestion process.

Intestines and Stomach

 

- Black pepper aids in digestion and turmeric helps in fighting bacterial infections affecting the intestines and stomach.
At NHV Natural Pet, you can count on us for professional guidance and quality, natural pet remedies. We are a group of caring, compassionate pet health experts, including veterinarians, registered vet techs, herbalists, and others, dedicated to improving your pet's health and wellbeing.
Each formula is created by a veterinarian and master herbalist and they are clinically tested for efficacy and safety.   Learn more: