---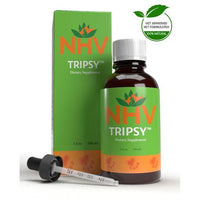 Specially formulated to gently and effectively promote proper urinary health as well as easing painful urination that often accompanies kidney problems. With seven powerful ingredients, this supplement is highly effective in helping your pet's urinary system.
NHV Tripsy for kidney problems also helps to:
Helps alleviate painful symptoms
Helps inhibit infection
All natural anti-inflammatory
Suitable for long-term use
Many pets can suffer from kidney, renal and urinary disorders that can be painful and uncomfortable. Kidney stones form when the body is unable to properly metabolize minerals due to a poor diet. If untreated, this may eventually lead to kidney failure, so making sure your furry family member gets adequate nutrition is vital.
Use as a Supplement Alone or with Conventional Treatment
NHV's Tripsy is also safe to be given along with conventional treatments for kidney problems. You can read about a recent evaluation done on the healing components of this powerful supplemental blend and how it alleviates bladder problems.
Ingredients:
Stone Root – Acts as a tonic for the capillaries and prevents the formation of kidney calculi.
Parsley Piert – Aids digestion. Also used to aid fever, kidney stones, bladder stones and fluid retention.
Wild Hydrangea – A pain reliever that increases the flow of urine and eliminates swelling and fluid retention.
Gravel Root – Restores and cleanses the genitourinary (reproductive and urinary) organs.
Echinacea Purpurea – Contains strong immune-stimulating properties.
Marshmallow – An anti-inflammatory that controls bacterial infections and soothes and softens irritated tissues.
Oregon Grape – Helps relieve indigestion and malabsorption. Also has antibiotic and immunostimulatory properties.
At NHV Natural Pet, you can count on us for professional guidance and quality, natural pet remedies. We are a group of caring, compassionate pet health experts, including veterinarians, registered vet techs, herbalists, and others, dedicated to improving your pet's health and well-being.
Each formula is created by a veterinarian and master herbalist and they are clinically tested for efficacy and safety.   Learn more: