---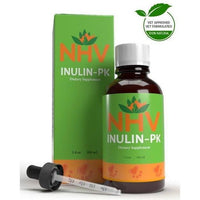 Rid your pet of internal parasites (worms) that can drain your pet's energy, prevent it from absorbing nutrients from food, and damage the intestinal tract.  I nulin PK is a herbal product designed to fight parasites, control bleeding, and repair the internal damage worms cause. Signs of an infestation include anemia, weight loss, and diarrhea.
Roundworms, hookworms, whipworms, tapeworms, and threadworms are the most common parasites found in puppies and adult dogs and are easily transmitted through infected feces. One of the best ways to prevent worms is to keep your home and yard clean.
Ingredients:
Elecampane – Has a paralyzing effect on the central nervous system of worms.
Wormwood – Expels intestinal worms and parasite infestations.
Jamaica Quassia – Helps expel parasitic worms from the body. Enhances other properties in Inulin PK.
Papaya – Helps dissolve the worm's outer layer.
Oregon Grape – Helps relieve indigestion and malabsorption. It also has antibiotic and immunostimulatory properties.
Fennel – Relieves digestive problems and relaxes spasms.
Bacopa – Clears toxins, reduces inflammation, and improves healing.
Milk Thistle – Protects, strengthens, and stimulates new cell production in the liver.
Celandine – Protects the liver, improves bile flow, and helps to emulsify gallbladder content.
At NHV Natural Pet, you can count on us for professional guidance and quality, natural pet remedies. We are a group of caring, compassionate pet health experts, including veterinarians, registered vet techs, herbalists, and others, dedicated to improving your pet's health and wellbeing.
Each formula is created by a veterinarian and master herbalist and they are clinically tested for efficacy and safety.   Learn more: