---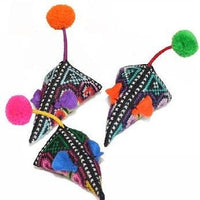 The GOLi Design Mice Cat Toy is an exotic and modern take on a classic mouse toy made of colorful Hilltribe hand-crafted fabric and synthetic stuffing. It has an angular shape, pom pom tail, and a bell that your cat or kitten will love for batting, pouncing and biting fun!
GOLi Design makes innovative pet products your cat will love through environmentally responsible and thoughtful Fair Trade practices. By purchasing GOLi products, you are giving a helping hand - or paw - to women and families working for a brighter future in developing countries, by providing them with an important source of sustaining income!
Features -
Crafted with colorful, safe, and durable hand-stitched Hilltribe cotton fabric and synthetic filler.


Infused with potent, long lasting catnip scent that is irresistible to your cat.


Each toy contains a large bell for extra fun.


Measures 3 1/4 Inches by 2 Inches by 3 Inches.


Single Toy. Assorted Colors.
Designed in Portland, Oregon. Hand made in Thailand.