---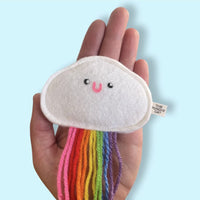 You and your kitty will love this cheerful rainbow cat toy.

3.75" x 5" catnip rainbow cloud

This super potent cat toy is made with 2 layers of wool felt, colorful acrylic yarn, stuffed organic fine ground catnip, and hand painted with a one of a kind smiley face.

Each catnip rainbow cloud will look very much like the one in the photo. Every toy is one-of-a-kind and variations are to be expected as is the charming nature of a handmade product.

Every cat toy from The Punchy Cat is designed and handmade by me, Molly Freeman at my home studio in Iowa City, IA.