---
For A Complete & Balanced Puppy Diet, Pair with the Simple Food Project Recipes 
Nothing but Vitamins & Minerals from Whole Food.  No synthetic vitamins or minerals, additives, or fillers, Puppy Balancer is a blend of antioxidant-rich superfoods and hearty greens that pair with Simple Food recipes to offer your growing puppy exactly what they need. 
Ground turkey, ground krill, dried ground spinach, dried ground tomato, dried ground avocado, dried ground cranberry, dried ground blueberry, dried ground spirulina, dried ground sweet potato, dried ground broccoli, barley grass, dried ground pomegranate, and dried ground guava 

Crude protein (min)……………………………… 30%

Crude fat (min)…..…………..………………………… 5%
Crude fiber (max)………………………………….. 5%
Moisture (max)………………………………………. 12%
Pairing Puppy Balancer with The Simple Food Project recipes will meet AAFCO's Growth & Reproduction requirements ensuring each recipe is a Complete & Balanced puppy diet.

By itself, Puppy Balancer is intended for intermittent or supplemental feeding only.
Add 1 tsp Puppy Balancer for every 1/3 cup of Simple Food 
HOW LONG TO FEED PUPPY BALANCER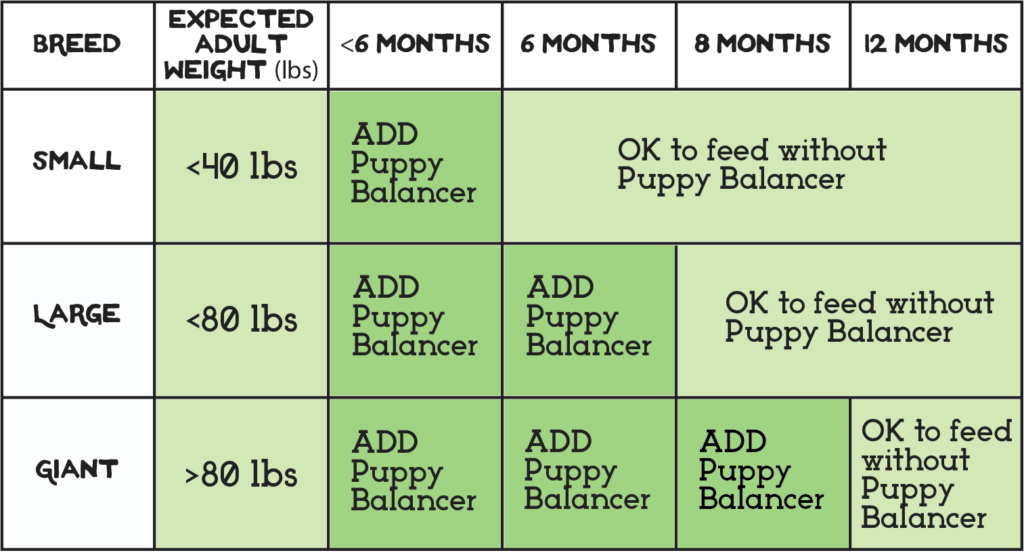 Puppy Balancer is simply a concentrated blend of vitamins and minerals from whole foods, so you can absolutely keep adding it to the bowl past "puppy" age!