---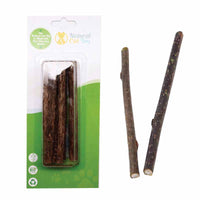 We've got something your cats have never tried before! Silver Vine!! Silver Vine sticks are for cats to chew and enjoy. Perfect for cats that don't respond to catnip or for cats that have grown bored of it, Silver Vine is a more potent catnip alternative grown in the mountains of East Asia.
Like catnip, Silver Vine is a non addictive, non toxic plant that can benefit feline health by relieving stress and anxiety. It elicits a euphoric response in cats similar to the catnip response, and many cats who are immune to catnip will respond positively to Silver Vine.

Typical behaviors include rolling, chin and cheek rubbing, drooling, and licking. The effect usually lasts between five and 30 minutes, and cats will usually take more Silver Vine again after about 20-30 minutes.Silver Vine supports reduction of stress and anxiety in your cat and sharpen their natural hunting skills. 
Chewing on these Silver Vine sticks can also improve dental health, as your cat nibbles it can help exfoliate plaque from their teeth as well as helping freshen breath. Get your Silver Vine smelling it's best by using a vegetable peeler and peeling off a bit of the outer bark to get it smelling fragrant for kitty. 
Made of:
100% Natural Silver Vine (Actinidia Polygama)