---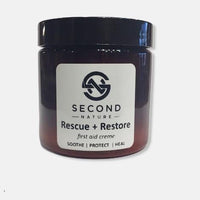 Second Nature is our line of animal health products, from functional treats to body care.  Always natural and always the finest ingredients.
Rescue + Restore
Natural First Aid Creme.  To soothe itchy, yeasty and irritated skin and wounds and to promote healing.
Infused with lavender, chamomile, comfrey leaf, comfrey root, calendula, aloe vera, sulfer, coconut oil, vitamin E, honey and royal jelly to help soothe and heal.
Infused with need, capryllic acid, apple cider vinegar and essential oils to help kill yeast and bacteria.
Massage into affected area.  Apply 2x daily for 2 days, then 1x daily for one week.  For best results, start with a clean dog (we recommend our Calma Shampoo).  Great for in-between toes! External use only.