---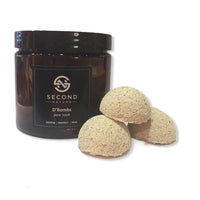 Second Nature is our line of animal health products, from functional treats to body care.  Always natural and always the finest ingredients. 
D'Bombs
Paw Cleanse Bombs.  No more stinky paws!  To cleanse, freshen, remove toxin, and eliminate bacteria, dissolve one tablet in 3-6 cups of warm water.  Soak each paw for 30-60 seconds.  Pat dry (do not rinse).
Made with Epsom sales, kaolin clay, witch hazel, povidine iodine, apple cider vinegar, caprylic acid and green tea, and infused with essential oils of orange, lavender, tea tree, lemon and oregano to effectively combat yeast and bacteria.
Use as a general paw wash anytime!  To combat yeast and fungus, use 1-3 times weekly, or as necessary until conditions improve.  Can also be used for a full body rinse - simply add 1 bomb to 2-4 inches of water in the tub and pour over dog, being sure to avoid eyes, nose and mouth.
Try these with the Second Nature's Portable Paw Washer!