---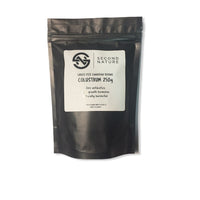 Grass-Fed Canadian Bovine Colostrum
zero antibiotics
zero growth hormones
ethically harvested
made in Canada
A natural source of life-supporting growth, immune and metabolic factors to promote health.
Recommendations for use: Bovine Colostrum is an all-in-one health supplement developed by veterinarians and scientists for cats and dogs of all ages.  It contains over 50 natural beneficial components including growth, immune and metabolic factors.  These factors work in concert to support normal immune function and cellular growth and repair.  Colostrum May be beneficial to your pet's oral and gut health and immune disorders including allergies and diarrhea.
Directions for use:  Administer orally once daily at meal time according to body weight.
<5lbs: 1/2 teaspoon/day
5-15lbs: 1 teaspoon/day
15-30lbs: 2 teaspoons/day
over 30lbs: 3 teaspoons/day
For animal use only.  Colostrum has no known toxicity or drug interactions.