---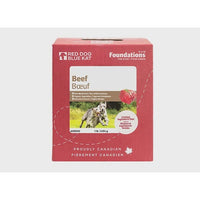 Beef and Veggie meals are made from human grade, non-medicated beef meat, beef organs, and organic vegetables. A great meal if you are currently in the process of switching to raw. It's "udderly" good!
No additives, preservatives or fillers.
Ingredients: Beef muscle meat,  beef heart, beef liver, beef spleen, beef kidney,  bok choy*,  yams*, lettuce*, zucchini*, squash*, pumpkin seeds*, beef bone powder, probiotic (lactobacillus casei K9-1, lactobacillus fermentum K9-2, inulin).
*Certified organic