---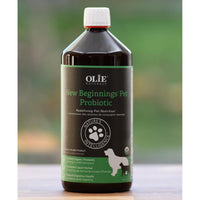 Olie® Naturals New Beginnings® Pet Probiotic is a certified organic European probiotic that links old traditions, innovative technologies and global leaders in the art of science and probiotics.
New Beginnings® Pet Probiotic contains a blend of carefully selected active bacteria cultures and herbs. A unique and gentle process builds the dynamic and complex mixture, designed to remain viable and functional as it travels throughout the gastrointestinal tract.

New Beginnings® Pet Probiotic provides friendly bacteria that play an important in basic digestion, proper metabolism, immune support and overall well-being for the lifetime of your companion animal.
Certified organic probiotic.

                   

Liquid Herbal

Supports Digestive Health

Veterinary Health
Recommended Dose:
Kittens and cats: 1/2 teaspoon to 1 teaspoon per day (2.5-5 ml)

Puppies and small dogs (0-10kg): 1/2 teaspoon to 1 teaspoon (2.5-5 ml)

Medium dogs (10-25kg): 1 Tablespoon (15 ml)

Large dogs (25-45kg): 2 Tablespoons (30 ml)

Giant dogs (45kg +): 3 Tablespoons (45 ml)
Add to meal once a day.
Start with half a dose and gradually increase to a full dose in two weeks.
Refrigerate after opening. Do not shake but PLEASE, gently rotate and turn to dispense sediment from the bottle AND do not leave the cap off the bottle.
 NON-GMO
No dairy, gluten, preservatives, solvents, additives, artificial flavours, colouring or sugar (fermenation process decomposes all the sugar).
This product is developed and produced in Denmark.
Veterinary Health Product: NN.B6X3
*due to the sensitive nature of this product it is only available for pickup or local delivery.