---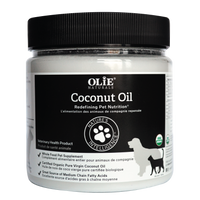 DOGS AND CATS BOTH LOVE THIS AMAZING QUALITY PRODUCT!
Olie ® Naturals Coconut Oil provides a treasure chest of rare beneficial nutrients for our companion animals that may promote health and wellness in cats and dogs. Coconut Oil contains one of nature's richest sources of medium-chain fatty acids include Lauric & Capric Acids.  It is known for its anti-bacterial and anti-fungal/yeast properties, both internally and externally.
This coconut oil is beyond 'cooking grade' -- it is 'therapeutic grade'.
Coconut Oil may support:
Energy Levels

Joint mobility

Digestion and bowel health

Brain health

Immune system

Skin/coat health

Yeast conditions

Normal antibody production
Recommended Dose:
Cats: 1 teaspoon

Small dogs (<10kg): 1 teaspoon

Medium dogs (10-30kg): 2 teaspoons

Large dogs (>30kg): 1 Tablespoon

Oral use: Put on wet or dry food or feed on the spoon.
Normal for consistency of product to change depending on temperature.
NON-GMO
No preservatives, solvents, additives, artificial flavours or colouring.
Veterinary Health Product: NN.U4J3