---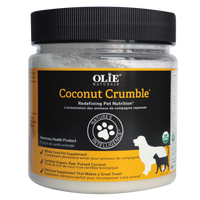 THIS SUPPLEMENT MAKES A WONDERFUL TREAT FOR BOTH DOGS AND CATS!
Olie®  Naturals Coconut Crumble®  provides beneficial raw functional food nutrients for our companion animals that support overall health and wellness.
Coconut Crumble® contains one of nature's unique sources of prebiotic fibre and medium-chain fatty acids, which are both respected and valued within the fields of whole food nutrition, holistic and conventional medicine.
Unrefined coconut may provide the following benefits to your pet:
Digestive health support

Good source of medium-chain fatty acids

Good source of prebiotic fibre which supports intestinal tract health
This supplement makes a wonderful treat for both dogs and cats. One ingredient certified organic!
How to use:
At room temperature, it can be broken up with a knife to form a crumble.

The oil may naturally separate from the fibre creating a solid white top layer. To remix, warm the jar in hot water and stir when soft.

Crumble is very palatable and can be fed alone, mixed into food or as a healthy treat. Be creative!

Normal for consistency of product to change depending on temperature. Refrigerate to restore to the solid state.

PLEASE DO NOT MICROWAVE THIS PRODUCT!
NON-GMO
No preservatives, solvents, additives, artificial flavours or colouring.
Veterinary Health Product NN.F4Z0