---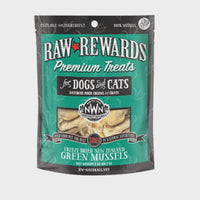 New Zealand green-lipped mussels are a powerhouse of nutrition.  GLM are a delicious whole food support for skin and coat health with high concentrations of Omega-3 fatty acids (EPA and DHA). GLM also provides great anti-inflammatory health benefits making it supportive for all ages of pets.
These mussels are sustainably raised and harvested under strict New Zealand aquaculture standards. GLMs are one of the top 'eco-friendly seafoods' by the International Conservation Organization Blue Ocean Institute.
Many pets have food related sensitivities and will benefit from a single ingredient treat. Raw Rewards are highly palatable and easy to feed. The convenient pieces break easily to allow for quick and easy feeding while training. The soft texture also lets you crumble them over your pets food for not only a nutritional boost but a highly palatable addition. Moisture is an important part of your pets diet. Always make sure fresh water is available.