---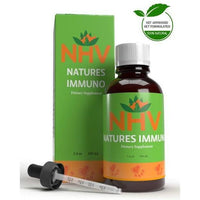 May help with pets that are fighting cancer 
Helping with heart and cardiovascular health
Helps fight chronic viral infections in dogs
Works to balance the immune system
Natures Immuno is formulated for dogs from Turkey Tail, Cordyceps, Reishi, Shiitake, and Agaricus mushrooms by a holistic veterinarian and master herbalist.  Medicinal mushrooms like these have been used for thousands of years in Chinese medicine as well as traditional herbalism. Researchers around the globe are now studying their potential in helping with cancer, boosting the immune system, and helping with digestive problems and more.
Properties of these Medicinal Mushrooms
Antioxidant
Anti-microbial
Anti-inflammatory
Immunostimulatory
"The mounting evidences from various research groups across the globe, regarding anti-tumor application of mushroom extracts unarguably make it a fast-track research area worth mass attention." – (Patel and Goyal, 2012)
      Ingredients:
Turkey Tail Mushroom

—Turkey tail mushroom for dogs is beneficial for many types of cancers

Strengthens the immune system
Lowers cholesterol and aids in digestion

Cordyceps Mushroom

—Cordyceps helps enhance lymphocyte activity which balances the immune system

Rich in phytonutrients
Useful in diabetes as it lowers blood sugar

Reishi Mushroom

—Reishi detoxifies the blood

Lowers cholesterol
Reduces blood pressure

Shitake Mushroom

—Shitake stimulates the immune system

Reduces fat in the liver
Reduces plaque in the arteries

Agaricus Mushroom

—Agaricus improves bone health, helps with insulin production and liver function.

Considered an adaptogen that combats stress and supports endocrine function.
Currently being used in Japan as an adjunctive with chemotherapy treatments.
At NHV Natural Pet, you can count on us for professional guidance and quality, natural pet remedies. We are a group of caring, compassionate pet health experts, including veterinarians, registered vet techs, herbalists, and others, dedicated to improving your pet's health and well-being.
Each formula is created by a veterinarian and master herbalist and they are clinically tested for efficacy and safety.   Learn more: