---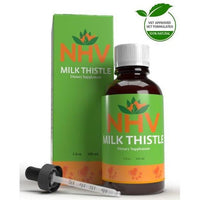 Helps to remove chemicals and toxins that can accumulate in your pet's system. It is one of the few herbs with no equivalent in conventional medicine.  It's one of our favorite herbs and we think everyone and every pet should take this to help us in this toxic world!
Detoxifies the liver and kidneys
Improves liver and kidney function
Antioxidant properties may benefit as anti-cancer support
Glycerin-based and safe for long-term use
Ingredients:
100% natural, organic milk thistle seed extract
At NHV Natural Pet, you can count on us for professional guidance and quality, natural pet remedies. We are a group of caring, compassionate pet health experts, including veterinarians, registered vet techs, herbalists, and others, dedicated to improving your pet's health and well-being.
Each formula is created by a veterinarian and master herbalist and they are clinically tested for efficacy and safety.   Learn more: