---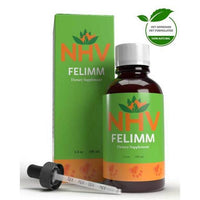 100% Natural herbal supplement that helps your pet fight a wide range of viral, fungal and bacterial related infections.
Helps your cat fight Feline Leukemia, FIV virus, other viral infections, and lymphoma.  Helps dogs combat Canine herpes virus, Canine influenza, Lyme disease, Staphylococcal bacterial, Ehrlichiosis, Aspergillosis, Blastomycosis Cryptococcus, Valley Fever and yeast infections.  Felimm contains great herbs that are known to help fight fungal, viral and bacterial infections. It is essential to help boost your dog's immune system so that it can fight the infections.
Encourages detoxification of the lymphatic system
Helps strengthen your cat's weakened immune system
Increases your pet's ability to fight infections
Stimulates the appetite
Improves energy levels
Helps combat upper respiratory tract infections
Ingredients:
St. John's Wort – A potent antiviral that helps control viral infections and stimulates your cat's immune system.
Turmeric – A powerful antioxidant that helps fight the damaging effects of free radicals. It strengthens liver function and contains strong antifungal properties.
Aloe Vera – Contains Acemannan, which has been proposed as an adjunctive therapy for cats with FIV. Aloe also contains high levels of vitamins, minerals, amino acids, and other nutrients important for cats with immune disorders.
Alfalfa – Contains high levels of chlorophyll, which works as an antioxidant in your cat's bloodstream. It also contains nutrients beneficial to cats with immune disorders. Burdock – Helps cleanse the body of toxins and waste that accumulate during illness. It is also high in calcium, phosphorus, iron, thiamine, and riboflavin.
CC – A powerful anti-inflammatory and antioxidant that supports your cat's immune system and helps strengthen its defenses against viruses like leukemia.
Osha – A natural immune builder that helps pets fight infections including FeLV and FIV. Also has antibacterial and antiviral properties.
Dandelion – A highly nutritious food that stimulates liver secretion, improves digestion and stimulates appetite. It also protects the kidneys and has anti-inflammatory properties.
Gotu Kola– An antioxidant-rich herb known to strengthen the immune system and protect cells from damage caused by free radicals. Helps calm the nervous system.
Usnea – An immune system stimulant with anti-bacterial and anti-fungal properties that help protect your cat's weakened immune system from Candida Albicans.
Goldenseal – An immune supporting herb with blood cleansing properties.
Myrrh – Helps control bacterial infections that cats with compromised immune systems are so vulnerable to.
At NHV Natural Pet, you can count on us for professional guidance and quality, natural pet remedies. We are a group of caring, compassionate pet health experts, including veterinarians, registered vet techs, herbalists, and others, dedicated to improving your pet's health and well-being.