---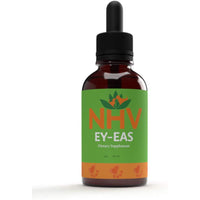 EY-Eas is a dog eye infection remedy that helps soothe painful, stressful eye infections and in dogs due to foreign material, bacteria or viral infections such as pink eye (conjunctivitis).
Supports management of painful swelling
Non-irritating gentle formula
Helps prevent spreading infection to other dogs
Helps restore eyes to a healthy state
Chamomile – An excellent calming agent.
Eye Bright – Reduces inflammation and contains strong astringent properties.
Goldenseal – An anti-inflammatory and decongestant that exhibits a broad spectrum of antibiotic activity that works as a dog eye infection natural remedy.
Rosemary – Has anti-inflammatory and antiseptic properties.
At NHV Natural Pet, you can count on us for professional guidance and quality, natural pet remedies. We are a group of caring, compassionate pet health experts, including veterinarians, registered vet techs, herbalists, and others, dedicated to improving your pet's health and well-being.
Each formula is created by a veterinarian and master herbalist and they are clinically tested for efficacy and safety.   Learn more: