---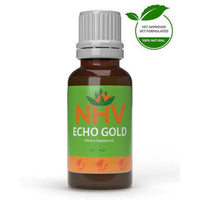 The best natural herbal ear drops for dog ear infections and pain.  
Echo Gold for dog ear infections can help sooth and relieve pain and inflammation that is caused by dog ear mites, allergens, insect bites, foreign particles, food allergies, parasitic mites and fungal infections. Dog ear infections can be detected if there is in swelling, shaking of head, itching, smelly odor, waxy discharge, redness and flaking and bumps on the skin.
Supports in reducing inflammation of the dog ear canal
Helps eliminate ear mites and infection causing triggers
Reduces itching and scratching
Ingredients:
Chamomile – Helps soothe and heal inflamed skin in and around the ear.
Goldenseal – An anti-inflammatory with infection-fighting properties that inhibits bacteria growth.
Echinacea Angustifolia – Also known as coneflower, echinacea stimulates and strengthens the immune system.
Myrrh – An astringent that relieves irritated skin.
Tea Tree Oil – An effective antiseptic useful in the treatment of infected wounds.
At NHV Natural Pet, you can count on us for professional guidance and quality, natural pet remedies. We are a group of caring, compassionate pet health experts, including veterinarians, registered vet techs, herbalists, and others, dedicated to improving your pet's health and wellbeing.
Each formula is created by a veterinarian and master herbalist and they are clinically tested for efficacy and safety.   Learn more: