---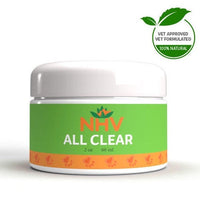 Soothe your pet's irritated skin with All Clear ointment, a natural and safe herbal formulation that calms and heals affected skin.  All Clear ointment helps with various skin problems, such as dermatitis, skin diseases, bacterial, yeast, and fungal infections, parasitic and viral skin conditions. Allergens, fleas, ticks, wounds and scratches, may be the cause of these skin problem. 
Dry skin, scaly patches that look like dandruff, large brown flakes, crusty scabs, blisters, and pimples.
May help with redness and inflammation of the skin tissue.
Ringworm (fungal) lesions
Help with itchy skin problems
Licking, chewing of the skin
Made with the finest, organically grown, or ethically harvested herbs. Made specifically for pets, vet-formulated and vet approved.
Calendula is an anti-inflammatory herb that helps to disinfect wounds and promote healing of the skin.
Echinacea Angustifolia has immune-stimulating, anti-inflammatory, and antibacterial properties.
Rosemary Leaf contains Rosmarinus acid, which is rich in anti-inflammatory, antiseptic, and astringent properties beneficial for promoting fur regrowth.
How to Administer
Topical ointment: Clean and dry affected area(s). Apply to affected area 3 to 4 times per day. It may some times be necessary to shave or trim your pet's hair so that the All Clear Ointment may penetrate better.
Caution
Do not apply on open or bleeding wounds.
Each formula is created by a veterinarian and master herbalist and they are clinically tested for efficacy and safety.