---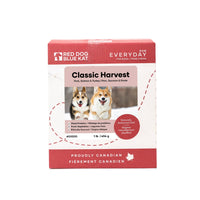 Economical blend includes pork meat and organs combined with turkey necks and wild salmon for a perfectly rounded blend (poultry, red meat and fish all in one!).  Combined with some fresh veggies and blueberries, makes for a nutritious and delicious meal for any pup!
Ingredients:
75% MEAT AND ORGAN / 25% VEGGIES
Pork muscle meat (trim & heart), wild salmon, turkey necks, lamb liver, celery, blueberries, bok choy, butternut squash, sunflower seeds, black soldier fly larvae powder, kelp powder.