---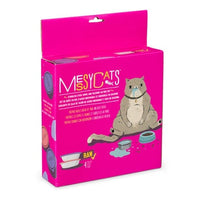 4pc Set with Two Stainless Saucer Shaped Bowls and Two Silicone Lids, 1.75 Cups Per Bowl, Watermelon and Purple Lids
Keep your cat happy. Keep your fridge clean.
Make your life easier by prepping raw and dehydrated meals ahead of time. Bowl and lid combos become stackable for easy storage and the airtight seal keeps the food fresh and ready to eat.
Features:
Each set contains two saucer shaped stainless steel bowls (14oz / 1.75 cups per bowl, 6" d x 1" h) and two silicone lids (6" d).
The low profile saucer shaped bowl helps reduce whisker fatigue and irritation. Designed for independent use or can be integrated with a Messy Cats silicone single or double feeder systems (manufacturers item code MC010- and MC020-) for additional help to keep the bowls in place and contain the mess.
Prepare raw meals ahead of time, thaw and keep fresh in the refrigerator.
The lids are air-tight, stackable and spill resistant (even with liquids - check out the video) which also makes them great for travel, dry or wet food if you furry friend does not finish their meal.
Reduce the chance of cross contamination in your kitchen by prepping your meals in the same bowl your cat eats from…and then putting it in the dishwasher!
Stainless bowls are non-toxic and rust resistant. Lids are made from food-grade safe silicone, and are BPA and PVC Free. All components are dishwasher safe.
1 year manufacturers warranty.
Care:
 Hand wash with warm water and mild soap or place in dishwasher. Hand wash recommended. Do not microwave.