---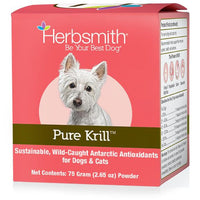 Packed with Nutrition
Omega 3s - EPA and DHA fatty acids are read-to-use and promote a healthy inflammatory response.
Phospholipids - Phospholipids efficiently deliver those essential omega 3s right to where your dog's body needs them most
Astaxanthin - a super powerful antioxidant that protect cells inside and out and supports healthy aging.
Choline - an essential nutrient that can boost brain, heart, and liver health.
Sustainably-sourced, wild-caught Antarctic Krill.