---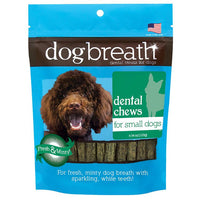 Dog Breath Dental Treats provide a whole new way to address dog breath and tartary teeth. Whether you're implementing a daily dental routine or looking for a fix for that awful green cloud floating near your pup's mouth, Dog Breath is quick and easy tool. No brushing. No spraying. No struggle. Just a fun-to-eat treat!
Dog Breath is a natural way to address stinky breath and tartar-coated teeth in dogs. With sea algae, spearmint, and parsley, these dental treats are your multi-tool to a healthy teeth and mouth. The spearmint and parsley work together to freshen up breath, while the sea algae uses its natural biological process to soften up tartar on teeth.
For dogs under 40lb, use the For Small Dogs.
For dogs over 40lb, use the For Large Dogs.