---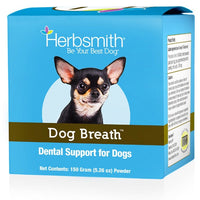 Herbsmith Dog Breath Dental Powder is a vet-formulated innovation for a simple, effective (and delicious) daily dental routine. No hassle. No stress. A real treat. 
✔️ Pour Over Food
✔️ Make into a Toothpaste
✔️ Add to Water
✔️ Prepare a Treat
Fight bad breath and tartar build-up for immediate and long-term support for your dog.
✔️ Breaks down tartar build-up 
✔️ Freshens breath
✔️ Helps kill bacteria
✔️ Supports the oral microbiome keeping gums and teeth healthy
It's Not Just About Bad Breath
Prioritizing oral health supports your dog's health as a whole. 
Without a dental hygiene routine, dogs are at risk for poor dental health and, as a result, poor overall health. The bacteria that contribute to tartar can enter the bloodstream through the red, swollen, and bleeding tissue and it is taxing on the immune system.
Make Dental Health A Priority
A simple daily dental routine like Dog Breath avoids the stress of brushing or spraying for both you and your pup. And tackling tartar now saves your wallet later. Dental cleanings are stressful and costly.
Dog Breath is an easy way to put good dental routines into practice and make oral health a priority.
Support Your Dog For Years to Come
It's never too late to start. Whether or not bad breath or tartar are an issue, a dental care routine is crucial to your dog's health and wellbeing.
Defending against harmful tartar and the bacteria that contribute to it benefits your dog's dental health long-term, and that protects your pup's health as a whole.
Active Ingredients:
Proprietary blend of (Gelatin, Dried Seaweed, Guar Gum, Egg, Pea fiber, Spearmint, Dry lecithin, Parsley, Citric Acid) – 800 mg 
*per 1/4 tsp scoop
Only for Dogs 6+ Months of Age
Directions for use: 
<10 lbs –  1/4 tsp in evening
11 – 20 lbs – 1/2 tsp in evening
21 – 40 lbs –1 tsp in evening
41 – 80 lbs – 1 1/2 tsp in evening
> 80 lbs – 2 tsp in evening
Using Naturally Powerful Ingredients
Natural herbs like spearmint and parsley work together to freshen breath.
Parsley may seem like an odd choice but the herb has a fresh, clean taste with hints of citrusy lemon.
And spearmint not only freshens breath, but it has antibacterial and antimicrobial properties that can help kill the bacteria that contribute to your dog's bad breath. 
Taking advantage of sea algae's osmotic effect, we can use this sea plant to soften the mineral-based tartar buildup on teeth.
That's because not unlike teeth, sea plants accumulate a slimy biofilm on their surface.
And scientists have found that these plants have a natural, protective mechanism to break down this biofilm, called osmosis. Because tartar is essentially layers and layers of biofilm, this mechanism can be used to combat the buildup of tartar.
CAUTIONS
For animal use only. This product is intended for intermittent or supplemental feeding only. Safe use in pregnant animals or animals intended for breeding has not been proven. If an animal's condition worsens or does not improve, stop product administration and consult your veterinarian.