---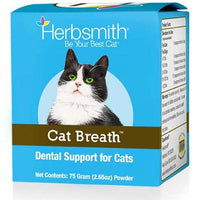 Herbsmith Cat Breath Dental Powder
A vet-formulated innovation that tackles more than just tartar. Powder, paste, treat – however you approach dental care, Cat Breath has you covered. No hassle. No stress. A real treat. 
✔️ Pour Over Food
✔️ Make into a Toothpaste
✔️ Add to Water
✔️ Prepare a Treat
Fight bad breath and tartar build-up for immediate and long-term support for your dog.
✔️ Breaks down tartar build-up 
✔️ Freshens breath
✔️ Helps kill bacteria
✔️ Supports the oral microbiome keeping gums and teeth healthy
Effective ingredients go to work exactly where your cat benefits most. Proprietary blend of (Gelatin, dried seaweed, guar gum, egg, pea, dry lecithin, parsley, citric acid) – 800 mg 
Using Naturally Powerful Ingredients
A Crucial Addition To Every Cat's Routine
with Benefits for Every Age, Size, and Breed
A simple, daily dental routine fights tartar and harmful bacteria to keep their breath fresh and their teeth and gums healthy.
It's Not Just About Bad Breath
Prioritizing oral health supports your cat's health as a whole. 
Without a dental hygiene routine, cats are at risk for poor dental health and, as a result, poor overall health. The bacteria that contribute to tartar can enter the bloodstream through the red, swollen, and bleeding tissue and it is taxing on the immune system.
Make Dental Health A Priority
A simple daily dental routine like Cat Breath avoids the stress of brushing or spraying for both you and your cat. And tackling tartar now saves your wallet later. Dental cleanings are stressful and costly.
Cat is an easy way to put good dental routines into practice and make oral health a priority.
Support Your Cat For Years to Come
It's never too late to start. Whether or not bad breath or tartar are an issue, a dental care routine is crucial to your cat's health and wellbeing.
Defending against harmful tartar and the bacteria that contribute to it benefits your cat's dental health long-term, and that protects your cat's health as a whole.
Sprinkle one scoop over the evening meal. 
Or mix one scoop with room-temperature water (1:3) for ready-made toothpaste. Use after evening meal. 
Approximately a 3-Month Supply
Only for Cats 6+ Months of Age
CAUTIONS
For animal use only. This product is intended for intermittent or supplemental feeding only. Safe use in pregnant animals or animals intended for breeding has not been proven. If an animal's condition worsens or does not improve, stop product administration and consult your veterinarian.