---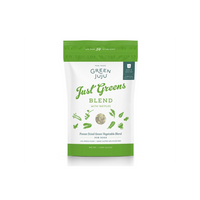 New freeze dried formula from Green Juju! Convenient alternative to frozen, but keeps the same nutrients as raw!
Inspired by our popular Just Greens Blend, this freeze-dried version makes it easier to feed healthy. Plus, by popular demand, we've added nettles to bolster this delicious recipe.
Raw freeze dried to lock in nutrients 
Travel with our original Just Greens blend! 
Ingredients: Organic zucchini, organic celery, organic kale, organic dandelion greens, organic coconut flour, organic parsley, organic coconut oil, organic nettles, organic ginger, organic turmeric.
Guaranteed Analysis:
Crude Protein (min) 18.4%
Crude Fat (min) 6.44%
Crude Fiber (Max) 11%
Moisture (Max) 12.69%
54 Kcal per Tbsp.
Daily Feeding:
Tiny (under 10lbs) 1 Tbsp Dry / 1 Tbsp Water
Small (10-25 lbs) 3 Tbsp Dry / 3 Tbsp Water
Medium (25-50 lbs) 1/2 Cup Dry / 1/2 Cup Water
Large (50-75 lbs) 3/4 Cup  Dry / 3/4 Cup Water
X Large (75 lbs+) 1 Cup Dry / 1 Cup Water