---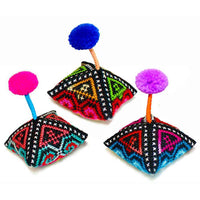 Tippi are made with hilltribe crafted colorful fabric and synthetic filler.
Hand-crafted, they are infused with catnip oil, derived from USA grown organic catnip.
Each toy contains a large bell that makes a rattle sound for extra fun for the kitties!
Hand-crafted using colorful Hilltribe cotton fabric with beautiful hand cross stitched patterns.
Tippi measure about 2" x 2" and 2.75" in height.