---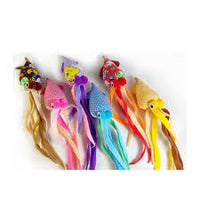 Tenggo squid are made with colorful cotton mixed fabric.
They are infused with catnip oil, derived from USA grown organic catnip.
Tenggo squid also contains bells that make rattle sound with fleece tentacles for extra fun.
Tenggo squid measure 12" in length and 2" in height, also come in an assortment of colors.
Made in SE Asia, each toy is individually hand-crafted and sold separately
Hand-crafted, they have big eyes that make them cute, adorable, contains bells and made from a cotton mixed fabric.
Tenggo squid has long fleece tentacles that provide extra fun for your kitty.