---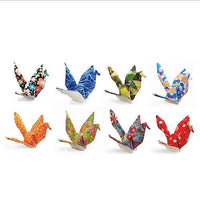 Fabric traditional origami crane cat toys are made of colorful cotton mixed fabric.
These hand-crafted cat toys are inspired by Japanese traditional paper folding folk art. They are infused with catnip oil ( derived from USA organically grown catnip ).
Each toy has a couple of bells inside to make rattle sound for that extra fun!
They are available in an assortment of colors.
Each Ori-crane is  about 3" tall by 2.75" long and wings span about 7.25" wide.
Hand-crafted in Thailand