---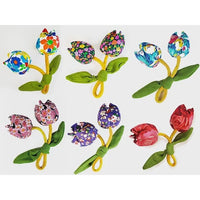 Bloom cat toys are made of colorful cotton fabric with a variety of flower print.  
Individually hand-crafted, they are infused with USA grown organic catnip. Cats love them!
Each Bloom cat toy consists of 2 flowers with bell inside, on a stem with leaves.
Each toy is about 5.5" tall. Each "tulip" bud measures 2" x 1.75".
Hand-crafted in Thailand.