---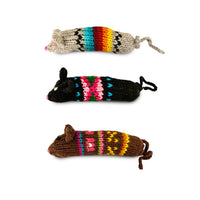 Chilly Wooly Mice are hand-knit out of 100% wool and are filled to the brim with organic Catnip. Mice are available in a variety of bright colours with cute pink noses and all 'wear' a unique fairisle sweater. 
The mice measures about 6 inches long and 2 inches wide. There is a gathering string near the tail to allow for refilling the mouse with more catnip when desired.  Your feline friend will have so much fun! 
The manufacutere, Chilly Dog, directly employs artisans from the highlands of South America to knit their toys and practices within the guidelines of Fair Trade.