---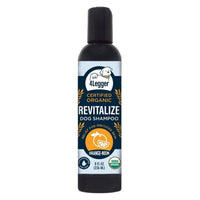 The first USDA Certified Organic Dog Shampoo using safe & non-toxic organic aloe juice, organic oils, and organic essential oils!
Our concentrated USDA certified organic neem dog shampoo with organic orange essential oil is an uplifting blend for dog's that need to maintain healthy skin as well as those battling fleas, red itchy skin, or dermatitis (skin inflammation) caused by allergies, flea bites, or environmental conditions. 
Our neem shampoo for dogs has natural properties that work to reduce skin inflammation, deodorize, repair and promote healthy skin, reduce the presence of bacteria and fungi (antibacterial, anti-fungal), increase blood flow to the skin, naturally deter pests, and lift your dog's spirits.  
The star of this blend is the hand picked certified organic sweet oranges that are cold pressed to release the essential oil from the rind - packed with natural Vitamin C to promote the production of collagen (repair skin) and known for its ability to reduce inflammation and bacteria and promote healthy skin. 
The orange in our flea shampoo for dogs is complimented with Certified Organic Neem Oil - a highly sustainable oil known for its ability to repel pests and provide strong natural anti-fungal, antibacterial and antimicrobial properties. Our neem dog shampoo excels at cleaning and eliminating dandruff while hydrating the skin to improve the strength and health of hair follicles.
Blended with organic aloe vera juice, saponified organic oils, organic shea butter, organic vegetable glycerin, and organic rosemary extract, this blend really is something to bark about and is an excellent all natural alternative to medicated dog shampoo with toxic chemicals.
Not recommended for cats. Instead please use our unscented or lemongrass blends both available in USDA organic to food grade standards or USDA organic.
This product has not been registered with the United States Environmental Protection Agency as a pesticide. This product contains essential oils and qualifies for exemption from registration under the Federal Insecticide, Fungicide and Rodenticide Act.