---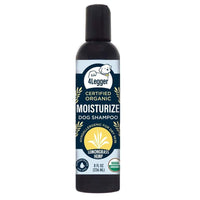 The first USDA Certified Organic Dog Shampoo using safe & non-toxic organic aloe juice, organic oils, and organic essential oils!

What's In the Bottle?
Organic Aloe Juice, Organic Saponified Oils (Coconut, Shea Butter, Olive, Sunflower, and Jojoba), Organic Vegetable Glycerin, Organic Lemongrass Essential Oil, Organic Rosemary Essential Oil, Organic Hemp Oil, Organic Rosemary Extract
These ingredients are so good we had a hard time deciding what to call this formulation - certified organic lemongrass dog shampoo or certified organic hemp dog shampoo! We should have just called it the best organic dog shampoo because we think it is! 
Our certified organic dog shampoo was developed to moisturize your dog's skin with gentle and effective all natural ingredients including organic lemongrass essential oil, organic hemp seed oil, organic shea butter, and organic sunflower oil.
It provides soothing relief for for dry and itchy skin, irritated skin, dandruff, rashes, and dermatitis. 
For dogs with healthy skin, it will help to tone and maintain your dog's natural skin moisture without blocking the pores.  
Our flea shampoo for dogs uses lemongrass to get rid of the "doggy smell" while toning the skin and stimulating blood circulation to bring oxygen where it is needed.
Used in aromatherapy, lemongrass is known to revitalize the mind and soul while providing antibacterial, anti-fungal and pest deterrent properties.
Our organic hemp oil does not contain THC.  
Here are some highlights:  
NO parabens
No MEA, DEA, PEG
No Ethanolamines
No Sulfates
No Detergents
Formaldehyde preservatives (DMDM or DMDH Hydantoin etc.)
No petroleum based ingredients
No animal products 
No artificial fragrances, colors, or preservatives