---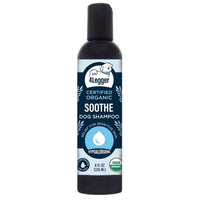 The first USDA Certified Organic Dog Shampoo using safe & non-toxic organic aloe juice and organic oils!
Our hypoallergenic dog shampoo is the perfect solution for pets with ultra sensitive skin, are aroma sensitive, or when you want to add your own essential oils.
Our aloe dog shampoo combines organic aloe juice with organic coconut, shea butter, olive, sunflower, and jojoba to create this gentle moisturizing formulation to relieve itchy skin, moisturize dry skin, and soothe inflamed and irritated skin.

Safe for all animals.


What's In the Bottle?
Organic Aloe Juice, Organic Saponified Oils (Coconut, Shea Butter, Olive, Sunflower, and Jojoba), Organic Vegetable Glycerin, Organic Rosemary Extract
Adding Your Own Essential Oils: Our holistic veterinarians love our hypoallergenic organic dog shampoo as they can add their own essential oils to treat various conditions with their pet patients. Please use care when adding essential oils and do not attempt without a thorough understanding of essential oils and their properties. 4-Legger is not responsible for altered formulations or adverse reactions for the use of essential oils without proper training. We recommend working with a holistic veterinarian who can advise you on the proper dilution of essential oils. 
Here are some highlights:  
NO parabens
No MEA, DEA, PEG
No Ethanolamines
No Sulfates
No Detergents
Formaldehyde preservatives (DMDM or DMDH Hydantoin etc.)
No petroleum based ingredients
No animal products 
No artificial fragrances, colors, or preservatives