---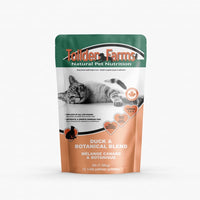 Tollden for Cats
Created to support a healthy and balanced lifestyle for your cat.
Our Botanical Blends are uniquely formulated for all life stages of cats. Cats are obligate carnivores. This means that 100% of their nutrient requirements and the majority of their water requirements depend entirely on an animal protein focused diet.
Our 99% pure protein botanical blends are made with everything your cat needs to thrive, including natural hydration for improved kidney and urinary health
Botanical blends are an excellent option for all cats but especially beneficial for picky eaters and allergenic cats.
For cats of all life stages and all breeds
Only farm fresh and human grade material
Antibiotic and growth hormone free
Whole food source of taurine, omega-3, and our signature botanical blends for an extra boost of nutrition
Nutritionally balanced and complete with no artificial ingredients
Ingredients
Double ground duck & duck bones, heart, liver; botanical blend of seeds, roots and grasses consisting of: dandelion leaves, lemon grass, parsley, burdock root, oat straw, kelp, Omega 3 old water, cold pressed fish oil (18 DHA, 12 EPA)
Nutritional Analysis
per kg
Moisture

60.30%

Protein

14.10%

Phosphorus

0.40%

Calcium

0.52%

Ash

5.19%

Fat

19.70%

Fibre

< 1%

Calories

2,137 (kcal/kg)