---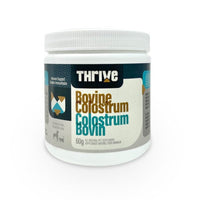 Sale
Special blend of Bovine Colostrum, Spirulina and carefully chosen Mushrooms to help support the immune system functions. Rich source of immunoglobulin and anti-oxidants.
Ingredients: Bovine Colostrum, Spirulina, Mushroom (Turkey tail, Chaga, Reishi)
Feeding Guide

Dosage

10 lbs – 1/4 tsp 

20 lbs – 1/2 tsp

40 lbs – 1 tsp

60 lbs – 1 1/2 tsp

80 lbs – 2 tsp

100 lbs – 2 1/2 tsp

Warnings

Administer during or after the animal has eaten to reduce incidence of gastrointestinal upset. Do not use in immature, pregnant or lactating animals, animals with bleeding disorders, autoimmune disease or diabetes, unless directed by a veterinarian. Not a source of antibodies. Store out of direct sunlight. Keep out of reach of children. No refrigeration required.