---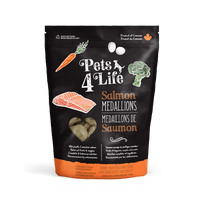 The emphatic, yet familiar flavours of pets4Life Salmon pays proper respect to the great Canadian Atlantic Ocean from which they came. Wild caught and providing a rich source of omega-3 fatty acids, this recipe emphasizes that the desire for finer tastes can still be complemented by quality nutrition.
Menu
Wild Canadian salmon (meat, bone), carrots, cabbage, apples, kale, whole eggs, sunflower seeds, ground flax seeds, kelp, garlic, ground almonds
How-to
Every dog is different. We recommend you start by feeding 2-3% of your dog's body weight per day and adjust that amount up or down depending on their age, energy levels and ideal weight. Not looking to feed as a full meal? Add Pets4Life Medallions as a topper to your pet's raw bowl and as an added boost of flavour and nutrition.