---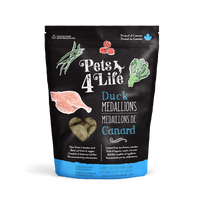 Pets4Life Duck is made from antibiotic and hormone free Canadian duck, that only can be described as elevated cuisine. When observing the carefully selected vegetables, fruits and seeds, it is evident that this duck is not beholden to traditional accompaniments. With every ingredient having nutritional purpose, Pets4Life Duck is canine fine dining at its best.
Menu
Duck (meat, bone, liver, heart), kale, green beans, broccoli, alfalfa, papaya, cranberry, sunflower seeds, ground almonds
How-to
Every dog is different. We recommend you start by feeding 2-3% of your dog's body weight per day and adjust that amount up or down depending on their age, energy levels and ideal weight. Not looking to feed as a full meal? Add Pets4Life Medallions as a topper to your pet's raw bowl and as an added boost of flavour and nutrition.