---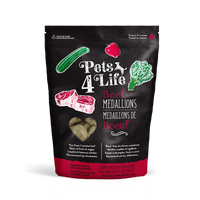 The deeply flavourful Pets4Life Beef is one of the tried-and-true ways to introduce an iron rich protein into your pet's rotational meals.  If the 100% Canadian raised beef isn't enough of a showstopper, the locally sourced signature fruits, vegetables and seeds are the perfectly paired accoutrement to this hearty bowl.
Menu
Beef (meat, bone dust, heart, liver), butternut squash, kale, celery, apples, zucchini, ground flax seeds, unpasteurized honey, apple cider vinegar, ground alfalfa, kelp, parsley, garlic
How-to
Every dog is different. We recommend you start by feeding 2-3% of your dog's body weight per day and adjust that amount up or down depending on their age, energy levels and ideal weight. Not looking to feed as a full meal? Add Pets4Life Medallions as a topper to your pet's raw bowl and as an added boost of flavour and nutrition.