---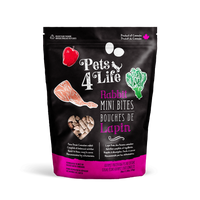 Canadian raised, Pets4Life Rabbit is a recommended selection for those with a refined palate. Not to be overlooked, the addition of ingredients like unpasteurized honey, showcases a nuanced flavour profile and no doubt adds quality nutrients. Carnal yet delicate, this novel protein is naturally lean and is an ideal choice for those pets with sensitivities.
Menu
Rabbit (meat, bone, liver, heart), ground flax seeds, butternut squash, kale, celery, apples, whole eggs, kelp, unpasteurized honey, apple cider vinegar, parsley
How-to
Every cat is different. We recommend you start by feeding 2-3% of your cat's body weight per day and adjust that amount up or down depending on their age, energy levels and ideal weight. Not looking to feed as a full meal? Add Pets4Life Mini Bites as a topper to your pet's raw bowl and as an added boost of flavour and nutrition.