---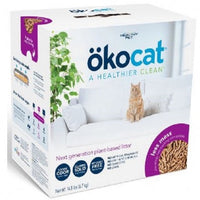 Description
Make litter box maintenance easier, cleaner and eco-friendly with Okocat Original Premium Wood Clumping Cat Litter. It's crafted from sustainably sourced, natural wood fiber that has been responsibly rescued and has a playful texture. Even though it's made using natural materials, it's still powerful enough to control those unpleasant kitty odors. Not only does it help control stink, but it also leaves behind a fresh natural scent that'll remind you of the great outdoors!
Made from soft, mini-pellets that are easy on paws, and less likely to stick to your cats' fur or track through the house like finer litters. It's also a great choice for long hair cats.
Key Benefits
A plant-based litter that's a clean and healthy option for your family, both furry and not-so-furry.
The biodegradable wood fiber is sustainably sourced, responsibly rescued and works to naturally prevent enzymes from bonding with liquid and waste, halting ammonia odor before it even starts.
Absorbs liquid on contact and creates solid clumps for hassle-free scooping. And it's flushable—simply scoop and flush one clump at a time!
99% dust-free so you and your feline can breathe easier. The wood fiber is de-dusted and screened.
100% free from artificial fragrances, synthetic chemicals, toxic dyes and GMOs.