---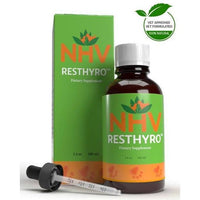 Sale
NHV Resthyro is made with high quality herbs that are designed to work together to support the balance of your pet's thyroid function, support the organs affected by feline hyperthyroidism, and support the symptoms of hyperthyroidism. 
May help regulate appetite
Helps support the thyroid gland and control thyroid hormone production.
Supports food metabolism, which will help with weight management
Helps relieve tension and irritability (yowling)
Reduces thirst and urination
Supports heart function
Supports kidney function
Hyperthyroidism is caused by excess production of the thyroid hormones (T3 and T4. One of the most common causes of hyperthyroidism is a hormone-producing benign tumor
Most cases of cats with hyperthyroidism are older pets (generally over 10 years of age). Clinical signs of hyperthyroidism include:
Hyperactivity / Hyperexcitability
Weight loss
Increased appetite
Vomiting/ diarrhea
Increased thirst
Increased urination
Hair loss
Excessive appetite
Increased heart rate
Shortness of breath
Seborrhea
Chronic Skin Infections
They may also experience secondary problems such as mild liver, kidney or heart disease. If your cat is experiencing liver problems we suggeset NHV Milk Thistle; for kidney issues we suggest NHV Tripsy; and for heart conditions, we suggest combining NHV Hearty Heart.
Ingredients:
Eleuthero – Helps control thyroid growth while stimulating gland function.
Bugleweed – Helps reduce thyroid hormones in the body. Also slows and strengthens heart contractions and relieves tension and irritability.
Lemon Balm – Inhibits thyroid activity by blocking thyroid-stimulating hormones. Also found to reduce stress and improve gastrointestinal activity.
Gotu Kola – A small green herb known for its cleansing abilities and used to treat skin problems. It also has strong antioxidant, antibacterial, and anti-inflammatory properties.
Hawthorne – Helps strengthen and improve heart function.
Skullcap – Known for its relaxing and detoxifying qualities, as well as its ability to stimulate kidney function.
Valerian – Used extensively as a pain reliever, anti-inflammatory, and mild sedative.
At NHV Natural Pet, you can count on us for professional guidance and quality, natural pet remedies. We are a group of caring, compassionate pet health experts, including veterinarians, registered vet techs, herbalists, and others, dedicated to improving your pet's health and wellbeing.
Each formula is created by a veterinarian and master herbalist and they are clinically tested for efficacy and safety.   Learn more: