---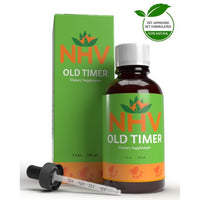 Sale
Support for dogs with arthritis
 
Soothes painful joints
Eases inflammation
Helps with energy levels
Six potent herbal ingredients will target the entire body to provide dogs support with joints, spleen, lymph nodes, major arteries.
Guggul

 

- Targets the joints to help ease painful arthritis symptoms
Asian Ginseng

 

- Helps to balance the body's immune system which includes the spleen and lymph nodes. It is also thought to stimulate memory and learning.
Ginger

 

- With anti-inflammatory and antioxidant properties, this powerful herb improves circulation in major arteries, easing pain and discomfort, and stimulates the body's immune system.
Astragalus

 

- Helps protect the body against oxidative damage.
Alfalfa

 

- This highly effective herb contains nourishing vitamins, minerals, amino acids and has a high protein content.
Cayenne

 

- Contains a compound called capsaicin, which helps with pain relief.
NHV's Old Timer joint support for dogs provides your canine companion with natural support to help alleviate arthritis, muscle, and joint discomfort. Just one bottle contains a 100 day supply for a small-medium sized dog.
At NHV Natural Pet, you can count on us for professional guidance and quality, natural pet remedies. We are a group of caring, compassionate pet health experts, including veterinarians, registered vet techs, herbalists, and others, dedicated to improving your pet's health and well-being.
Each formula is created by a veterinarian and master herbalist and they are clinically tested for efficacy and safety.   Learn more: