---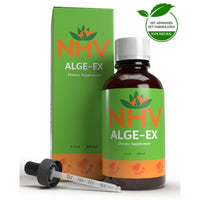 Sale
Vet formulated Alge-Ex provides fast and effective relief for your dogs seasonal environmental allergies. Will help reduce symptoms associated with allergies caused by pollens, grasses, mould, ragweed and anything found in the environment.
Helps the body naturally control histamine and immune response activity
Itchy red watery eyes, ears and paws (toes), sneezing
Helps decrease inflammation and itchiness of the skin
Helps reduce inflammation of the sinuses
Helps with decreasing nasal discharge
Eyebright- a herb that has a long history of use; for its anti-inflammatory, antibacterial antifungal, anticatarrhal and antiviral activities. Due to the anti-inflammatory properties eyebright is used for upper respiratory tract infections, hay fever, sinusitis, and catarrh (inflammation of the mucous membranes). As an astringent, it is used for dry congestion. It is considered to be useful for seasonal allergies and other nasal irritations it also relieves itchy eyes.
Ginger- a pungent and aromatic root used as a spice to enhance flavor in food. The part used is the rhizome which has been used for thousands of years for nausea and gastrointestinal relief. Research has shown that ginger has excellent antioxidant and anti-inflammatory properties.
Feverfew- a herb originally native to Eastern Europe has been used to reduce migraines. Studies have show that Feverfew inhibits the release of histamine and serotonin. It is considered to be very safe for cats and is used as an alternative to aspirin, which can be toxic to cats.
European Golden Rod- a herb with anti-inflammatory, anticatarrhal, antioxidant properties. It helps increases renal blood flow and increasing the glomerular filtration rate without stimulating the loss of sodium and chloride.
Echinacea- In human and animal experiments, Echinacea preparations have been shown to have immunostimulant effects. Its antimicrobial properties helps the body fight infections, it removes invading bacteria. Echinacea's also supports the lymph system, which in turn expels waste from the tissues.
At NHV Natural Pet, you can count on us for professional guidance and quality, natural pet remedies. We are a group of caring, compassionate pet health experts, including veterinarians, registered vet techs, herbalists, and others, dedicated to improving your pet's health and well-being.
Each formula is created by a veterinarian and master herbalist and they are clinically tested for efficacy and safety.