---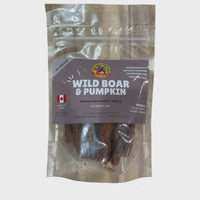 Another great treat combo for sensitive tummy dogs and cats!
Wild boar is a great source for lean protein with stronger meat smells for the picky dogs and cats.
Pumpkin will help aid digestion and keep it running smoothly. 
Vitamins from pumpkin will also help support eye health, immune system, and skin/coat.

These are softer in texture compared to venison or kangaroo!

Very easy to break off into smaller pieces for training, or just yummy snacks for all stages of life!
Ingredients

Alberta Wild Boar Meat
Organic Pumpkin