---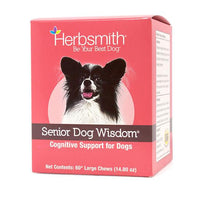 MANAGE DOGGY DEMENTIA

 - You know the day-to-day struggles a pet with dementia has - accidents in the house, restlessness at night, getting stuck in corners. These symptoms can be helped. Senior Dog Wisdom can provide the building blocks to support healthy aging, so you can help your dog live their best life, longer.
ADVANCED NUTRACEUTICAL FORMULA

 - This veterinarian-developed formula helps to maintain mental well-being by supporting and maintaining proper cognitive function using phytonutrients. Senior Dog Wisdom contains ingredients like L-Carnitine, Alpha Lipoic Acid, Branched Chain Amino Acid, Ginkgo Biloba and DHA, which are known to support a healthy brain.
EASE CONFUSION

 - If your dog gets stuck in corners or stares off into space, it's because he's disorientated. Disorientation is a sign of doggie dementia, meaning there are progressive neurological changes to the brain. Senior Dog Wisdom nourishes the brain, combatting symptoms like confusion, and promotes overall brain health for dogs, which means you get more of your old, happy, go-lucky dog back.
GET WAKE/SLEEP CYCLES BACK TO NORMAL

 - Your old gal sleeps more often, which is normal for any senior dog, but she doesn't sleep at night. She's restless so she paces, howling at ghosts or the wind or some other imaginary disturbance. Doggie dementia disrupts your dog's wake and sleep patterns (and yours too) but Senior Dog Wisdom gives her the nutrients that help support a healthy, aging brain so you can both get back to your routines.
NATURAL ALTERNATIVE WITH LONG-TERM RESULTS

 - The ingredients in Senior Dog Wisdom build up in your pet's system as they continue to use it, providing continuous support as weeks turn to months. The longer Senior Dog Wisdom is used the more effective it becomes – gently returning your senior dog to the puppy that you know and love so dearly.
VETERINARIAN RECOMMENDED

 - Enlightening research on aging inspired Dr. Bessent to create a nutrient-rich blend that helps support a healthy, aging brain in pets. Nourishing the brain has shown positive results for doggie dementia prompting many other holistic veterinarians to carry cognitive supplements for senior dogs. Their choice is more often than not Senior Dog Wisdom.
MADE IN THE USA

 - This supplement was developed by holistic veterinarian, Dr. Chris Bessent, who owns and operates Herbsmith's two facilities in Wisconsin. It's quality you can trust from a veterinarian with over 30 years of experience.
BE PROACTIVE ABOUT BRAIN HEALTH

 - Senior Dog Wisdom is perfect for all senior dogs. The definition of senior dog varies by the size of the dog though which is why we recommend giving it to an aging dog in the last third of their life. Large dogs, like Great Danes should start at 4-5 years old. Medium dogs, like Australian Shepherds should begin between 7-9 years old and small dogs like Chihuahuas should start taking Senior Dog Wisdom between 10 and 12 years of age.