---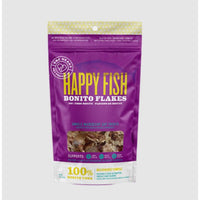 Happy Fish Bonito Flakes 1 oz
100% Dried, Wild-Caught Bonito Tuna Flakes for Cats
All Natural-Low Fat Treat
Source Omega 3 Fatty Acids
Vacuum Packed/Resealable Pouch
Features
75% all protein, providing a healthy compliment to a cats' daily diet. Low calorie and 100% natural. High in Taurine.
Contains 100% natural shaved bonito fish flakes with no additives, preservatives, or by-products. 
Benefits
Contains Omega-3 fatty acids, which benefits pet's health. Addresses feline obesity, a major growing health issue. Passes stringent FDA standards, making it one of the safest pet treats on the market. New resealable package that ensures freshness. Refrigerate to last even longer!