---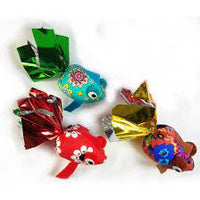 Crink-a-fish are made with colorful cotton mixed fabric.
They are infused with catnip oil, derived from USA grown organic catnip.
Crink-a-fish contains bells inside that make rattle sound, with a mylar tail for more excitement.
Made in SE Asia, each toy is individually hand-crafted and sold separately
Crink-a-fish measures 6" in length and 2.25" in height, come in an assortment of colors.​
Hand-crafted, they have big eyes that make them cute, adorable, contains bells and made from a cotton mixed fabric.
Crink-a-fish has mylar tail which make crinkle sounds when cat play with it.